Servicing
Our Standard Service is thorough and includes options often charged for as extra.
Customers often want to know how much their service will cost, but aren't really sure what needs to be done to their vehicle, making it difficult for us to quote realistically.We have set out to simplify this for mutual benefit.
A Standard Service is carried out as detailed below and takes about 1.5 hours to complete. There are several other procedures that might or might not be required but if we have not seen the vehicle before we will not know which is due.
This does not apply to a logbook service as the requirements are stipulated by the manufacturer, and if less than the standard service is required, then that can easily be arranged.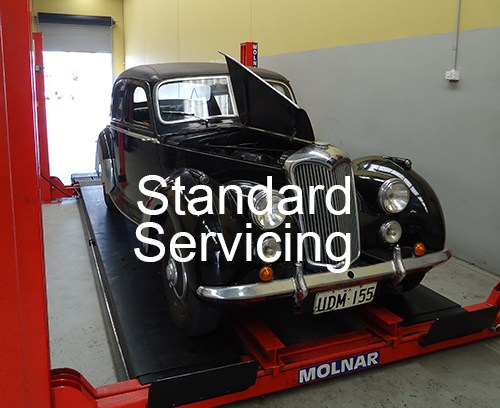 Usually for older cars out of warranty.
Standard Servicing
Replace engine oil and filter*
Test brake fluid for water content
Test coolant for quality
Inspect tyres, wear and side wall condition, adjust tyre pressure including spare if needed
Test battery condition
Inspect air filter
Front and rear tyre rotation and balance
Inspect front and rear disc brakes, disc pads and rotor condition
Inspect and adjust rear brake shoes if fitted and check wheel cylinders
Inspect the exhaust system for leaks and security
Inspect transmission and driveline oil levels and quality
Inspect under body for oil leaks
Inspect front steering and suspension arms, linkages and bushes for wear
Inspect rear suspension arms, linkages and bushes for wear
Inspect front struts/shock absorbers for leaks and mounting bushes for wear
Grease all steering, suspension, drive shafts joints if applicable
Inspect external drive belts, pulleys and tensioner
Inspect drive shaft, joints, boots and couplings for wear
Inspect engine and transmission mounts for cracks, alignment and condition
Inspect seat belt operation, report on condition
Replace cabin filter as required, air conditioner and vent controls for correct operation
Check and top up all under bonnet fluid levels
Check all external lights
Inspect windscreen wipers and washer operation
Check horn operation
Lube door locks and hinges
Report and clear fault codes *
Road test and report
Optional Service Requirements
Transmission/CVT oil and filter change
Gearbox oil change
Transfer case oil change
Rear diff oil change
Front diff oil change
Brake fluid change*
Clutch fluid change*
Engine/Inverter Coolant Change*
Power Steering fluid change
Fuel filter change
Spark plug change
Timing belt change*
Drive belt change
* Normally specified in a Logbook Service at set mileages.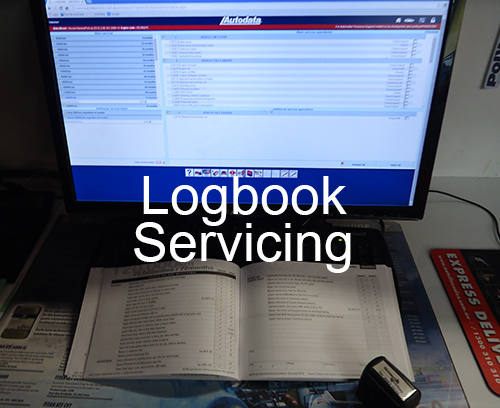 Logbook Servicing
We provide a convenient and value for money alternative to having your vehicle serviced at the dealership you bought it from. The law in Australia states that the required maintenance for your vehicle does NOT have to be performed at the dealership.  Provided the following requirements are met, your new car warranty will be maintained.
Licensed workshop:
The workshop and it's staff must be licensed to carry on business as an automotive repair shop and must fulfil all the required regulations that entails.
Manufacturer Specified Parts and Fluids:
The parts used to repair and maintain your vehicle must be original, equivalent or better quality than those which the manufacturer recommends. That means we use the same kind of parts and fluids that you would get at the dealership.
Service requirements:
Servicing must be carried out as per the procedures stipulated by the vehicle manufacturer. In many cases this requires specialist equipment, which we have available to use.